मीरां
Jump to navigation
Jump to search
miraan

poora nam
miraanbaee
janm
1498
janm bhoomi
me data, rajasthan
mrityu
1547
abhibhavak
ratnasianh
pati/patni
kuanvar bhojaraj
karm bhoomi
vrindavan
mukhy rachanaean
barasi ka mayara, git goviand tika, rag goviand, rag sorath ke pad
vishay
krishnabhakti
bhasha
brajabhasha
nagarikata
bharatiy
inhean bhi dekhean
kavi soochi, sahityakar soochi
miraanbaee athava mirabaee hindoo adhyatmik kavayitri thian, jinake bhagavan shrikrishna ke prati samarpit bhajan uttar bharat mean bahut lokapriy haian. bhajan aur stuti ki rachanaean kar amajan ko bhagavan ke aur samip pahuanchane vale santoan aur mahatmaoan mean mirabaee ka sthan sabase oopar mana jata hai. mira ka sambandh ek rajapoot parivar se tha. ve rajapoot rajakumari thian, jo me data maharaj ke chhote bhaee ratan sianh ki ekamatr santan thian. unaki shahi shiksha mean sangit aur dharm ke sath-sath rajaniti v prashasan bhi shamil the. ek sadhu dvara bachapan mean unhean krishna ki moorti die jane ke sath hi unaki ajanm krishna bhakti ki shuruat huee, jinaki vah divy premi ke roop mean aradhana karati thian.
janm tatha shiksha
prasiddh krishna bhakt kavayitri mirabaee jodhapur, rajasthan ke me dava rajakul ki rajakumari thian. vidvanoan mean inaki janm-tithi ke sanbandh mean mataiky nahian hai. kuchh vidvanh inaka janm 1430 ee. manate haian aur kuchh 1498 ee.. mirabaee me data maharaj ke chhote bhaee ratan sianh ki ekamatr santan thian. unaka jivan b de du:kh aur kasht mean vyatit hua tha. mira jab keval do varsh ki thian, unaki mata ki mrityu ho gee. isalie inake dada rav dooda unhean me data le ae aur apani dekh-rekh mean unaka palan-poshan kiya. rav dooda ek yoddha hone ke sath-sath bhakt-hriday vyakti bhi the aur sadhu-santoan ka ana-jana inake yahaan laga hi rahata tha. isalie mira bachapan se hi dharmik logoan ke sampark mean ati rahian. isake sath hi unhoanne tir-talavar, jaise- shastr-chalan, ghu dasavari, rath-chalan adi ke sath-sath sangit tatha adhyatmik shiksha bhi paee.[1]
janm sambandhi tathy
mirabaee ke janm kal tatha jivan-vritt ke vishay mean bahut matabhed haian. shyamachandr kapoor ne apani pustak 'hiandi sahity ka itihas' mean ullekhit kiya hai-
priyadas ne sanvath 1769 vi. mean bhaktamal ki tika 'bhaktiras bodhini' mean likha hai ki mira ki janm bhoomi me data thi.
nagaridas ne likha hai ki me data ki mirabaee ka vivah rana ke anuj se hua tha.
karnal t aaud ne 'enalas end eantikvatij aauf rajasthan' mean mira ka vivah rana kumbha se likha hai.
pandit gaurishankar hirachand ojha ne apane udayapur rajy ke itihas mean likha hai ki maharana saanga ke jyeshth putr bhojaraj ka vivah me data ke rav viramadev ke chhote bhaee ratnasianh ki putri mirabaee ke sath sanvath 1573 vi. mean hua tha.
smaran rahe ki karnal t aaud athava unhian ke adhar par jin vidvanoan ne mira ko kumbha ki stri mana hai, ve dant kathaoan ke adhar par galati kar ge haian. sarvapratham viliyam kruk ne bataya ki vastav mean mirabaee rana kumbha ki patni nahian thian, varanh saanga ke putr bhojaraj ki patni thian.
pandit ramachandr shukl ne apane itihas mean likha hai ki- 'inaka janm sanvath 1573 vi. mean chauk di nam ke ek gaanv mean hua tha aur vivah udayapur ke maharana kumar bhojaraj ji ke sath hua tha.'
d aauktar ganapatichandr gupt ne inaka janm sanh 1498 ee. (sanvath 1555 vi.) ke lagabhag mana hai.[2]
krishna se lagav
[[chitr:Meerabai-13.jpg|thumb|left|miraan nrity ke lie ghuangharoo baandhati huee]] mirabaee ke balaman mean krishna ki aisi chhavi basi thi ki yauvan kal se lekar mrityu tak unhoanne krishna ko hi apana sab kuchh mana. jodhapur ke rathau d ratan sianh ki ikalauti putri mirabaee ka man bachapan se hi krishna-bhakti mean ram gaya tha. unaka krishna prem bachapan ki ek ghatana ki vajah se apane charam par pahuancha tha. balyakal mean ek din unake p dos mean kisi dhanavan vyakti ke yahaan barat aee thi. sabhi striyaan chhat se kh di hokar barat dekh rahi thian. mirabaee bhi barat dekhane ke lie chhat par a geean. barat ko dekh mira ne apani mata se poochha ki "mera doolha kaun hai?" is par mirabaee ki mata ne upahas mean hi bhagavan shrikrishna ki moorti ki taraf ishara karate hue kah diya ki "yahi tumhare doolha haian". yah bat mirabaee ke balaman mean ek gaanth ki tarah sama gee aur ab ve krishna ko hi apana pati samajhane lagian.
vivah
mirabaee ke advitiy gunoan ko dekh kar hi meva d naresh rana sangram sianh ne mirabaee ke ghar apane b de bete bhojaraj ke lie vivah ka prastav bheja. yah prastav svikar kar liya gaya aur bhojaraj ke sath mira ka vivah ho gaya. is vivah ke lie pahale to mirabaee ne mana kar diya tha, lekin parivar valoan ke atyadhik bal dene par vah taiyar ho geean. vah phoot-phoot kar rone lagian aur vidaee ke samay shrikrishna ki vahi moorti apane sath le geean, jise unaki mata ne unaka doolha bataya tha. mirabaee ne lajja aur paranpara ko tyag kar anoothe prem aur bhakti ka parichay diya.
pati ki mrityu
vivah ke das varsh bad hi mirabaee ke pati bhojaraj ka nidhan ho gaya. sambhavat: unake pati ki yuddhoparaant ghavoan ke karan mrityu ho gee thi. pati ki mrityu ke bad sasural mean mirabaee par kee atyachar kie ge. sanh‌ 1527 ee. mean babar aur saanga ke yuddh mean mira ke pita ratnasianh mare ge aur lagabhag tabhi shvasur ki mrityu huee. saanga ki mrityu ke pashchath bhojaraj ke chhote bhaee ratnasianh sianhasanasin hue, atev nishchit hai ki apane shvasur ke jivanakal mean hi mira vidhava ho gee thian. sanh‌ 1531 ee. mean rana ratnasianh ki mrityu huee aur unake sautele bhaee vikramadity rana bane.
laukik prem ki alp samay mean hi itishri hone par mira ne paralaukik prem ko apanaya aur krishna bhakt ho gee. ve satsang, sadhu-sant-darshan aur krishna-kirtan ke adhyatmik pravah mean p dakar sansar ko nissar samajhane lagian. unhean rana vikramadity aur mantri vijayavargiy ne atyadhik kasht die. rana ne apani bahan oodabaee ko bhi mira ko samajhane ke lie bheja, par koee phal n hua. ve kul maryada ko chho dakar bhakt jivan apanae rahian. mira ko stri hone ke karan, chittau d ke rajavansh ki kulavadhoo hone ke karan tatha akal mean vidhava ho jane ke karan apane samaj tatha vatavaran se jitana virodh sahana p da utana kadachit hi kisi any bhakt ko sahana p da ho. unhoanne apane kavy mean is parivarik sangharsh ke atmacharit-moolak ullekh kee sthanoan par kie haian.
sanh‌ 1533 ee. ke asapas mira ko 'rav biramadev' ne me data bula liya. mira ke chittau d tyag ke pashchath sanh‌ 1534 ee. mean gujarat ke sultan bahadurashah ne chittau d par adhikar kar liya. vikramadity mare ge tatha terah sahasr mahilaoan ne jauhar kiya. sanh‌ 1538 ee. mean jodhapur ke rav maladev ne biramadev se me data chhin liya. ve bhagakar ajamer chale ge aur mira braj ki tirth yatra par chal p dian. sanh‌ 1539 ee. mean mira vriandavan mean roop gosvami se milian. ve kuchh kal tak vahaan rahakar sanh‌ 1546 ee. ke poorv hi kabhi dvarika chali geean.[3] unhean nirgun panthi santoan aur yogiyoan ke satsang se eeshvar bhakti, sansar ki anityata tatha virakti ka anubhav hua tha. tatkalin samaj mean mirabaee ko ek vidrohini mana gaya. unake dharmik kriya-kalap rajapoot rajakumari aur vidhava ke lie sthapit niyamoan ke anukool nahian the. vah apana adhikaansh samay krishna ko samarpit mandir mean aur bharat bhar se aye sadhuoan v tirth yatriyoan se milane tatha bhakti padoan ki rachana karane mean vyatit karati thian.
hatya ke prayas
thumb|left|miraan ki pratima, me data pati ki mrityu ke bad mirabaee ki bhakti din-pratidin aur bhi badhati gee. ve mandiroan mean jakar vahaan maujood krishna bhaktoan ke samane krishnaji ki moorti ke age nachati rahati thian. mira ke lie anand ka mahaul to tab bana, jab unake kahane par raja mahal mean hi krishna ka ek mandir banava dete haian. mahal mean mandir ban jane se bhakti ka aisa vatavaran banata hai ki vahaan sadhu-santoan ka ana-jana shuroo ho jata hai. mirabaee ke devar rana vikramajit sianh ko yah sab bura lagata hai. oodha ji bhi mirabaee ko samajhate haian, lekin mira din-duniya bhool kar bhagavan shrikrishna mean ramati jati haian aur vairagy dharan kar jogiya ban jati haian.[4] bhojaraj ke nidhan ke bad sianhasan par baithane vale vikramajit sianh ko mirabaee ka sadhu-santoan ke sath uthana-baithana pasand nahian tha. mirabaee ko marane ke kam se kam do prayasoan ka chitran unaki kavitaoan mean hua hai. ek bar phooloan ki tokari mean ek vishela saanp bheja gaya, lekin tokari kholane par unhean krishna ki moorti mili. ek any avasar par unhean vish ka pyala diya gaya, lekin use pikar bhi mirabaee ko koee hani nahian pahuanchi.
dvarika mean vas
in sab kuchakroan se pi dit hokar mirabaee aantat: meva d chho dakar me data a geean, lekin yahaan bhi unaka svachhand vyavahar svikar nahian kiya gaya. ab ve tirthayatra par nikal p dian aur aantat: dvarika mean bas geean. ve mandiroan mean jakar vahaan maujood krishna bhaktoan ke samane krishna ki moorti ke age nachati rahati thian. sanh‌ 1543 ee. ke pashchath mira dvarika mean ranachho d ki moorti ke sanmukh nrity-kirtan karane lagian. sanh‌ 1546 ee. mean chittau d se katipay brahman unhean bulane ke lie dvarika bheje ge. kahate haian ki mira ranachho d se ajna lene geean aur unhian mean aantardhan ho geean. jan p data hai ki brahmanoan ne apani maryada bachane ke lie yah katha gadhi thi. sanh‌ 1554 ee. mean mira ke nam se chittau d ke mandir mean giridharalal ki moorti sthapit huee. yah mira ka smarak aur unake ishtadev ka mandir donoan tha. gujarat mean mira ki paryapt prasiddhi huee. hit harivansh tatha hariram vyas jaise vaishnav bhi unake prati shraddha bhav vyakt karane lage.[5]
manyataean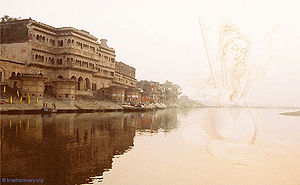 ek aisi manyata hai ki mirabaee ke man mean shrikrishna ke prati jo prem ki bhavana thi, vah janm-janmaantar ka prem tha. manyatanusar mira poorv janm mean vriandavan (mathura) ki ek gopika thian. un dinoan vah radha ki pramukh saheliyoan mean se ek hua karati thian aur man hi man bhagavan krishna ko prem karati thian. inaka vivah ek gop se kar diya gaya tha. vivah ke bad bhi gopika ka krishna prem samapt nahian hua. sas ko jab is bat ka pata chala to unhean ghar mean band kar diya. krishna se milane ki t dap mean gopika ne apane pran tyag die. bad ke samay mean jodhapur ke pas me data gaanv mean 1504 ee. mean rathaur ratan sianh ke ghar gopika ne mira ke roop mean janm liya. mirabaee ne apane ek any dohe mean janm-janmaantar ke prem ka bhi ullekh kiya hai-
"akul vyakul phirooan rain din, virah kaleja khay॥
divas n bhookh niand nahian raina, mukh ke kathan n ave baina॥
kaha karooan kuchh kahat n avai, mil kar tapat bujhay॥
kyoan tarasao atanrajami, ay milo kirapa kar svami.
mira dasi janam janam ki, pari tumhare pay॥"
mirabaee ke man mean shrikrishna ke prati prem ki utpatti se sanbandhit ek any katha bhi milati hai. is kathanusar, ek bar ek sadhu mira ke ghar padhare. us samay mira ki umr lagabhag 5-6 sal thi. sadhu ko mira ki maan ne bhojan parosa. sadhu ne apani jholi se shrikrishna ki moorti nikali aur pahale use bhog lagaya. mira maan ke sath kh di hokar is drishy ko dekh rahi thian. jab mira ki nazar shrikrishna ki moorti par gayi to unhean apane poorv janm ki sabhi batean yad a gayian. isake bad se hi mira krishna ke prem mean magn ho gayian.[6]
jiv gosvami se bheant
ek prachalit katha ke anusar mirabaee vriandavan mean bhakt shiromani jiv gosvami ke darshan ke liye geean. gosvami ji sachche sadhu hone ke karan striyoan ko dekhana bhi anuchit samajhate the. unhoanne mirabaee se milane se mana kar diya aur andar se hi kahala bheja ki- "ham striyoan se nahian milate". is par mirabaee ka uttar bada marmik tha. unhoanne kaha ki "vriandavan mean shrikrishna hi ek purush haian, yahaan akar jana ki unaka ek aur pratidvandvi paida ho gaya hai". mirabaee ka aisa madhur aur marmik uttar sun kar jiv gosvami nange pair bahar nikal ae aur bade prem se unase mile.[4] is katha ka ullekh sarvapratham priyadas ke kavittoan mean milata hai-
'vrindavan aee jiv gusaee joo so mil jhili, tiya mukh dekhabe ka pan lai chhutayau.
mira ka patr
[[chitr:Meerabai-temple-2.jpg|250px|thumb|miraanbaee mandir, udayapur]] apane parivar valoan ke vyavahar se pi dit aur phir pareshan hokar mirabaee dvaraka aur phir vriandavan a gee thian. vah jahaan bhi jati thian, vahaan logoan ka samman milata. log unhean deviyoan ke jaisa pyar aur samman dete the.[7] isi dauran unhoanne tulasidas ko ek patr bhi likha tha-
svasti shri tulasi kulabhooshan dooshan- haran gosaee.
barahian bar pranam karahooan ab harahooan sok- samudaee..
ghar ke svajan hamare jete sabanh upadhi badhaee.
sadhu- sag aru bhajan karat mahian det kales mahaee..
mere mata- pita ke samahau, haribhaktanh sukhadaee.
hamako kaha uchit karibo hai, so likhie samajhaee..
mirabaee ke patr ka jabav gosvami tulasidas ji ne is prakar diya tha-
jake priy n ram baidehi.
so nar tajie koti bairi sam jadyapi param saneha..
nate sabai ram ke maniyat suhmad susankhy jahaan lau.
aanjan kaha aankhi jo phoote, bahutak kaho kahaan lau..
guru
[[chitr:Meerabai-14.jpg|thumb|miraan nrity karati huee]] mirabaee sant ravidas ki mahanh shishya tatha sant kavayitri thian. adhikatar vidvanoan ne mirabaee ko guru ravidas ji ki shishya svikar kiya hai.[1] kashinath upadhyay ne bhi likha hai- "is vishay par koee sandeh nahian kiya ja sakata ki mirabaee guru ravidas ji ki shishya thian, kyoanki mirabaee ne svayan apane padoan mean bar-bar guru ravidas ji ko apana guru bataya hai."
"khoj phirooan khoj va ghar ko, koee n karat bakhani.
sataguru sant mile raidasa, dinhi surat sahadani..
van parvat tirath devalay, dhooandha chahooan dishi daur.
mira shri raidas sharan bin, bhagavan aur n thaur..
mira mhane sant hai, maian santa ri das.
chetan sata sen ye, dasat guru raidas..
mira sataguru dev ki, kar bandana as.
jin chetan atam kahya, dhan bhagavan raidas..
guru raidas mile mohi poore, dhur se kalam bhi di.
sataguru sain dee jab ake, jyati se jyot mili..
mere to giridhar gopal doosara n koy.
guru hamare raidas ji saranan chit soy.."
is prakar mirabaee ki vani se spasht hai ki vah guru ravidas ke samakalin sant shreni mean ati thian aur guru ravidas ko hi unhoanne guru ki upadhi pradan ki thi. atah mirabaee guru ravidas ki vidhivat shishya banian aur sath hi nam sabad, sangit v tanboora, jise mirabaee bajati thian, guru ravidas se hi paya tha. isilie sambhavat: yah lagata hai ki guru dakshina ke roop mean unhoanne rajasthan ke chittau dagadh mean 'ravidas chhattari' ka nirman karavaya tha. mirabaee ne bhi apani vani ko ragoan mean hi uchcharit kiya hai, jisamean adhikatar shabdoan mean bhairavi rag ko dekha ja sakata hai.
granth rachana
REDIRECTsaancha:mukhy
thumb|chaturbhuj nath evan miraanbaee mandir mirabaee ne char granthoan ki bhi rachana ki thi-
'barasi ka mayara'
'git goviand tika'
'rag goviand'
'rag sorath'
isake atirikt unake gitoan ka sankalan "mirabaee ki padavali" namak granth mean kiya gaya hai, jisamean nimnalikhit khand pramukh haian-
narasi ji ka mayara
mirabaee ka malar ya malar rag
garba gita ya miraan ki garabi
phutakar pad
satabhamanu roosan ya satyabhama ji nuan roosanan
rukmani mangal
narasianh mehata ki huandi
charit
pad
[[chitr:Raidas-foot-sign.jpg|250px|thumb|guru raidas ke padachihn]] mirabaee ki mahanata aur unaki lokapriyata unake padoan aur rachanaoan ki vajah se bhi hai. ye pad aur rachanaean rajasthani, braj aur gujarati bhashaoan mean milate haian. hriday ki gahari pi da, virahanubhooti aur prem ki tanmayata se bhare hue mirabaee ke pad anamol sanpatti haian. aansuoan se bhare ye pad gitikavy ke uttam namoone haian. mirabaee ne apane padoan mean 'shrriangar ras' aur 'shaant ras' ka prayog vishesh roop se kiya hai. bhavoan ki sukumarata aur niradanbari sahaj shaili ki sarasata ke karan mirabaee ki vyathasikt padavali barabas hi sabako akarshit kar leti hai. mirabaee ne bhakti ko ek naya ayam diya hai. ek aisa sthan jahaan bhagavan hi iansan ka sab kuchh hota hai. sansar ke sabhi lobh use moh se vichalit nahian kar sakate. ek achchha-khasa rajapat hone ke bad bhi mirabaee vairagi bani rahian. unaki krishna bhakti ek anoothi misal rahi hai.
mirabaee ki sadhu-santoan se sangat
d aau. omaprakash tripathi ki pustak "bhaktikal ke pramukh kaviyoan ka punarmoolyaankan" mean likha hai ki mirabaee ki bhakti matr ekaangik nahian thi. anek vidvanoan ka mat hai ki vah ek samajik chunauti ke roop mean prakat huee thian. mira ne anubhav kiya ki rana atyachari hai aur durbhavanagrast bhi hai. isaki pratikriyavash unake man mean vidroh bhav jaga. isilie unhoanne raj-maryada ko tyag kar santoan ka sannidhy grahan kiya. mira santoan ke sath van-van bhatakane aur nachane-gane lagi thian, jisase raj parivar mean unaki sthiti vivadaspad ho gee. tatkalin samanti maryada tatha rajakiy vyavastha ke anusar jitani varjanaean ki gayian, mira ka vidroh utana hi big data gaya.[1] unhoanne anek padoan mean yah ghoshana ki hai ki ve kisi bhi sthiti mean santoan ka sath nahian chho degi, jaise- thumb|miraanbaee smarak, me data
mira ki priti lagi santan sooan sadhu hamari atma
santan par tan man varooan, santan sangi baithi-baithi lok laj khoee
sath sang bhataki, sab santan ke man bhayi
ramaraya sadha ri satha, sadhu hamare sir th di
sadhu mayar nath, sadhu thare sang sukh pahayo
satha karasyaan sath ki, satha mandal sath ki
satha sang rahooangi, sadhu hi pihar sasuro
mhare satha se iktyar, mira ke harijan milya
santa hath bikani, santa ri sangati nahian chho dooan
mirabaee par ki gayi sakhti ka mool karan tha, unaka sadhu-santoan ke sath uthana-baithana. lagabhag sabhi sant shoodr varn se sambandh rakhane vale the. isi bat ki pushti mean mira age kahati haian-
"maian to nahian rahooan, rana ji thara desh mean."
bhasha
bhasha ko lekar bhi vibhinn vidvanoan ke bhinn-bhinn mat haian. marava di bhasha mean sthan ki any bhasha-chhaviyaan bhi vidyaman haian. phir mirabaee ki bhasha mean gujarati, braj aur panjabi bhasha ke prayog bhi milate bhi haian. mirabaee any santoan namadev, kabir, raidas adi ki bhaanti mili-juli bhasha mean apane bhavoan ko vyakt karati haian. unake padoan ki sankhya bhi abhi tak sunishchit nahian ki ja saki hai. khoj evan shodh abhi tak jari hai. kuchh samay poorv 'loor' ka miraan visheshaank prakashit hua tha. isamean mirabaee dvara gae ge 41 pad die ge haian. inhean 'harajas' nam diya gaya hai, jinhean lok dvara vibhinn avasaroan par gaya jata hai. kuchh shabdoan ke arth bhi spasht kie ge haian. atah kahana hoga ki is disha mean shodh kary abhi jari hai. koee sarvamany, svikary nirnay abhi shesh hai.[8]
mirabaee dvara prayukt saangitik paddhati
[[chitr:Mirabai-1.jpg|thumb|300px|mirabaee ka mandir, vrindavan]] sangit ki drishti se mirabaee madhy kal mean prachalit sangit ki rag-ragini paddhati se bhali prakar se parichat thian tatha vani ka uchcharan ragoan mean karana isaka sabase b da praman hai, jo ki vartaman mean shodh ka vishay ban kar samane aya hai. guru pyari sadh sangat ji, aisa sarvavidit hai ki samast jagath nad ke adhin hai tatha sangit nad ka sabase b da roop hai, jise mirabaee ne 45 ragoan ke roop mean apanate hue apani vani ko ragoan mean baddhit kiya aur eeshvar ki prapti mean donoan nadoan ka prayog kiya. nad do prakar ke mane ge haian-
anahat nad - ise santo ne 'anahat sabad bajavanaya' ki sanjna di. yah yogiyoan dvara dhyan se man mastishk mean suni jati hai, jise madhy kal ke santoan ne khoja hai.
ahat nad - yah nad aghat dvara paida hoti hai. sangit isi ka ek roop hai. isilie mirabaee ne nam shabdoan se dhyan lagaya tatha apani vani ko sangit (ragoan) ke roop mean uchcharit kiya.
sangit ko aitihasik drishti se dekha jae to yah mohanajod do, h dappa sanskriti tatha devi-devataoan ke kal se chala a raha adhyatm aur manoranjan ka alaukik sadhan hai, jise ati prachin kal aur prachin kal se lekar jan-sadharan aur vidvanoan dvara praryukt kee vidhaoan ko janm mila tatha ate-ate madhy kal mean yah rag-ragini paddhati banakar samane aya, joki tatkalin samay ke pratyek sangit vidvanh dvara apanaee gee paddhati thi. isi prakar madhy kal ke sant-mahatmaoan ne bhi gayan ke lie isi paddhati ka prayog kar apani vani rachanaoan ko uddhrit kiya. yah paddhati mukhyatah saangitik granthoan mean shiv-mat, bharat, kallinath, hanumat, narad muni, pundarik viththal adi dvara apanaee gee thi. atah sangit ko apanana mirabaee ki sangit jagath ke lie sarahaniy yogadan hai. is kal mean kee mahanh sant, jaise- sant ravidas, sant kabir, sant sadana, sant sain, sant namadev, sant dhanna, sant baini, sant bhikha, sant pipa, sant trilochan tatha sant jayadev adi hue, jo ki adhikatar nimn sanpraday se sanbandh rakhane vale the. in sabhi santoan ne samajik kuritiyoan ka khandan kar bhedabhavoan ka bhi virodh kiya jo ki samaj ko dimak ke saman khokhala karane par tule hue the. in sabhi santoan ne apani vani ko ragoan mean uchchara hai. mirabaee ki vani lagabhag 45 ragoan mean upalabdh hoti hai-
mirabaee dvara prayukt rag[1]

| kr.s. | rag | kr.s. | rag |
| --- | --- | --- | --- |
| 1. | rag jhianjhoti | 2. | rag kahanh da |
| 3. | rag kedar | 4. | rag kalyan |
| 5. | rag khat | 6. | rag gujari |
| 7. | rag goand | 8. | rag chhayanat |
| 9. | rag lalit | 10. | rag tribeni |
| 11. | rag sooha | 12. | rag sarang |
| 13. | rag to di | 14. | rag dhanasari |
| 15. | rag asa | 16. | rag basant |
| 17. | rag bilabal | 18. | rag bihag do |
| 19. | rag bhairoan | 20. | rag malhar |
| 21. | rag maru | 22. | rag ramakali |
| 23. | rag pilu | 24. | rag siri |
| 25. | rag kamod | 26. | rag sorathi |
| 27. | rag prabhati | 28. | rag bhairavi |
| 29. | rag jogiya | 30. | rag desh |
| 31. | rag kaliangada़ | 32. | rag dev gandhar |
| 33. | rag pat manjari | 34. | rag kaphi |
| 35. | rag malakauans | 36. | rag jaunapuri |
| 37. | rag pilu | 38. | rag shyam kalyan |
| 39. | rag paraj | 40. | rag asavari |
| 41. | rag bageshri | 42. | rag bhimapalasi |
| 43. | rag pooriya kalyan | 44. | rag hamir |
| 45. | rag sohani | | |
atah is prakar vani ka adhyayan karane se yah jnat hota hai ki mirabaee ne apani vani mean chhand, alankar, ras aur sangit ka poornataya prayog kiya aur ise adhyatm ka marg banaya, jo ki vartaman ke lie prerana hai. mirabaee ne 'bharatiy shastriy sangit' ko sanjoe rakhane mean ek anokhi k di jo d di, jisaka praman tatha pushti vibhinn granthoan ke avalokan karane par spasht hoti hai. atah is paddhati ko mirabaee ne apanaya aur apani vani ko sangit ke sath jo dakar adhyatm ke sath-sath sangit ka bhi prachar-prasar kiya, sath hi sangit ko jivit rakhane mean bhi apani sahamati tatha hissedari paee.
'mira' film ka nirman
thumb|film 'mira' (1979) bharat ke prasiddh gitakar gulazar ne mirabaee ke jivan par adharit ek hindi film ka bhi nirman kiya. gulazar nirmit aur apane samay ki mashahoor abhinetri hema malini dvara abhinit is film mean sangit pandit ravishankar ne diya tha. vikhyat sitar vadak ke roop mean pahachane jane vale pandit ravishankar ne kuchh gini-chuni filmoan mean hi sangit diya hai, parantu jo diya hai, vah avismaraniy hai. pandit ji film mean parshvagayika lata mangeshakar se mira ke padoan ko gavana chahate the, parantu lata ji ne apane bhaee hridayanath mangeshakar ke sangit mean mira ke adhikatar padoan ko lokapriy bana diya tha, atah ravishankar ji ne film mean vani jayaram se mira ke padoan ka gayan karaya. film ke sabhi git vividh ragoan par adharit the.[9]
mrityu
mirabaee apane yug se lekar aj tak lokapriyata ke shikhar par aroodh haian. unake git ya bhajan aj bhi hindi-ahindi bhashi bharatavasiyoan ke hothoan par virajaman haian. mira ke kee pad hindi filmi gitoan ka hissa bhi bane. ve bahut dinoan tak vrindavan (mathura, uttar pradesh) mean rahian aur phir dvarika chali geean. jahaan sanvat 1560 ee. mean ve bhagavan shrikrishna ki moorti mean sama geean. jab udayasianh raja bane to unhean yah janakar bahut nirasha huee ki unake parivar mean ek mahanh bhakt ke sath kaisa durvyavahar hua. tab unhoanne apane rajy ke kuchh brahmanoan ko mirabaee ko vapas lane ke lie dvaraka bheja. jab mirabaee ane ko raji nahian hueean to brahman jid karane lage ki ve bhi vapas nahian jayeange. us samay dvaraka mean 'krishna janmashtami' ayojan ki taiyari chal rahi thi. mirabaee ne kaha ki ve ayojan mean bhag lekar chaleangi. us din utsav chal raha tha. bhaktagan bhajan mean magn the. mira nachate-nachate shri ranachho daray ji ke mandir ke garbhagrah mean pravesh kar geean aur mandir ke kapat band ho gaye. jab dvar khole gaye to dekha ki mira vahaan nahian thi. unaka chir moorti ke charoan or lipat gaya tha aur moorti atyant prakashit ho rahi thi. mira moorti mean hi sama gayi thian. mirabaee ka sharir bhi kahian nahian mila. unaka unake priyatam pyare se milan ho gaya tha.[4]
jin charan dharatho gobaradhan garab- madhava- haran..
das mira lal giradhar ajam taran taran..
adhyatm stambh
thumb|150px|'mira' bhakti film (d aaukyoomeantri) sant kavayitri mirabaee ne apane hriday-mandir mean isht shrikrishna ki moorat sthapit kar bachapan se hi unaki pooja-aradhana aur archana aranbh kar di thi. yahian se unake bhav-vihval bhakti ke git phoote aur bahe, jisamean yug-yug ki manavata apani atmik pyas bujhati rahi hai. krishna ke prati prem-bhakti unake nari-sulabh svabhav evan vrittiyoan ke ati anukool bhi thi aur daiv-yog se mira isi disha mean pravritt hoti geean. bhautik jivan aur ghatanakramoan ne is veg ko aur bhi badhaya tatha disha ko sadha. vah parivarik sanbandhoan se mukt hokar unmukt huee mahabhav-hiloroan par unamatt ho jhoolati rahian. mirabaee ne svayan mukt hokar apane samay aur yug ki nari ko bhi aur desh-samaj ke manav evan manavata ko bhi mukt kiya. madhy yug mean hi adhunik manav ki mukti ka bigul bajane vali stri sant, adhunikata ke nari-vimarsh ka bij-vapan karane vali mirabaee apane jivan mean tatha mrityu mean bhi mukt rahian. vastav mean mira vartaman bhautik aandhakar ke viruddh bharatiy mahabhav-prem evan adhyatm ka dip stanbh haian. bhautik vaishvikaran evan bazarikaran ke viparit manav ki mukti, samanata, garima ke agrahoan ko bhavanatmak sarvabhaumikata dene vali mirabaee adhyatmik vaishvikaran evan vishvamanavata ka alakh jagane vali mahanh manavi hai.
vithika
tika tippani aur sandarbh
bahari k diyaan
sanbandhit lekh